Pot plants
Van der Voort Potplanten produces Spathiphyllums and Azaleas. Spathiphyllums are produced in-house from breeding through to cultivation through to production and sales. For Azaleas we work closely with Belgian growers, whereby we are responsible for forcing and selling. In that way we always guarantee the highest quality.
The best plants
At Van der Voort Potplanten we work with a group of dedicated professionals who constantly strive to optimise our processes. Our talents, extensive automation and mechanisation and our use of data ensure that our plants always strive for the highest standard. We have just one goal: to get our plants ready to perform in people's homes as successfully as possible and for as long as possible.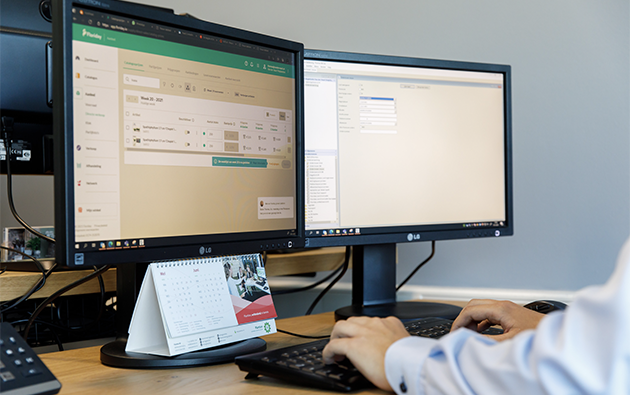 Bespoke
Every plant is bespoke. That means the customer can choose from a wide range of different pot sizes at Van der Voort Potplanten. Our internal transport, digital analysis and extensive knowledge of the market mean the customer always has options. We can change gear rapidly and keep the lines of communication short, allowing extensive customisation.
From sleeve to drop-in
That also applies to the accessories. We can supply the plants in every possible sleeve, pot cover or ceramic pot. Stickers are no problem either, and we can even place the plant in a ceramic pot. We always have a large stock of ceramic items available, so that a drop-in is always an option. Whatever the customer wants, we can arrange.
Responding rapidly to the market
Our committed team relishes any challenge. Thanks to our team of professionals, their ability to act independently and the size of the business we can invest time in optimising the systems and informing the customer. This way of organising ensures that we are very resilient, can innovate rapidly and can respond quickly to the market, whatever the challenge may be.