About us
Van der Voort Potplanten produces Spathiphyllums all year round. And in the Azalea season we force the best quality Azaleas from our top suppliers in Belgium into bloom. We do this as sustainably as possible, including through the use of advanced automation. We grow millions of plants every year of the highest quality, matched to market requirements. And every one of our plants results in a great story.
High quality plants,
great stories
Every plant produces a personal story. For example, a person wants to use our Spathiphyllum or Azalea to show their love for someone. Or to thank them. Or to say sorry, perhaps. Or to enhance their own life with the style and air purity that our plants bring to their home.
Sometimes the plant is a small gesture, sometimes it's a big gesture, but ultimately every plant results in a story. We cultivate plants using extensive automation and mechanisation, but we particularly cultivate the emotion that results in the greatest stories.

A professional team for all your bespoke solutions
In order to provide the quality that every plant deserves all year round, as a family business we work with a committed team. Our people can call on one another when needed, and are there for each other. That makes us flexible, so that we can always offer bespoke solutions.
We continuously optimise our processes so that our people always deliver a top performance. Every day we work on collaboration based on equality and mutual trust so that we can deliver our products and systems smoothly. Everything is for the customer's benefit.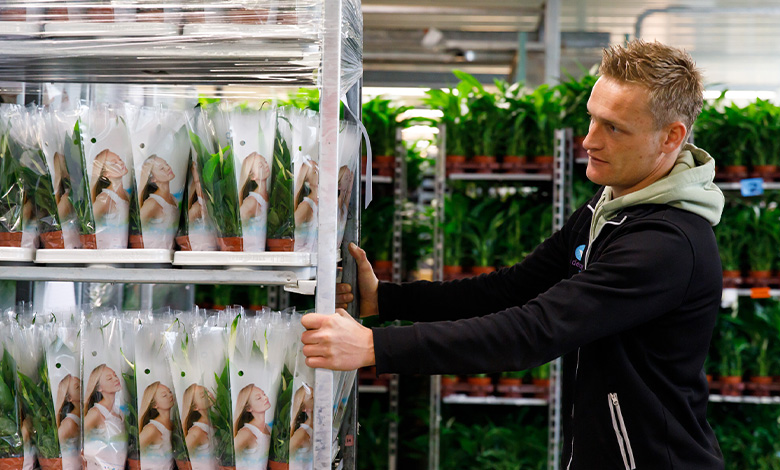 Everything in-house
Within the Van der Voort Group we control the plant's entire growth process together. From the breeding and propagation at Van der Voort Young Plants through to the cultivation and creation of the end products at Van der Voort Potplanten, we do everything in-house.
Every day we look for ways to make the processes within our business even more efficient. Short lines of communication, a no-nonsense attitude and rapid gear changes – that's what we like. We thereby always seek out the best solutions. That allows us to constantly add more value for our customers.

Our family business is based in the Westland, the world's premier greenhouse horticulture region. Here we work with leading businesses, partners and organisations. Because we believe that you get further together. By continuing to innovate within the Van Der Voort Group we are able to operate worldwide from our base in the Netherlands.
Chris van der Voort, the father of our current managing director Olaf, started out growing tomatoes. In the autumn he produced poinsettias, and this crop drew the business into the floriculture sector. The family business has now cultivated many types of plants, flowers and varieties. When we started breeding Spathiphyllum, this resulted in our passion for this plant. And that passion has only grown.
Fine-tuning the processes required to produce millions of high quality plants every year has been ingrained in the DNA of this family business for decades. Commitment, loyalty, dependability and always looking for connection will enable us to continue doing that at the highest level for decades more. Let's grow forward!